May 20, 2019
Creative optimization takes the right data and partnerships
Creative plays an important and powerful role in a company's TV campaign. Data shows that the ad creative can make or break a pilot test - leaving a lot of money and time on the line. It is not uncommon for us to see one creative be twice as efficient as the others.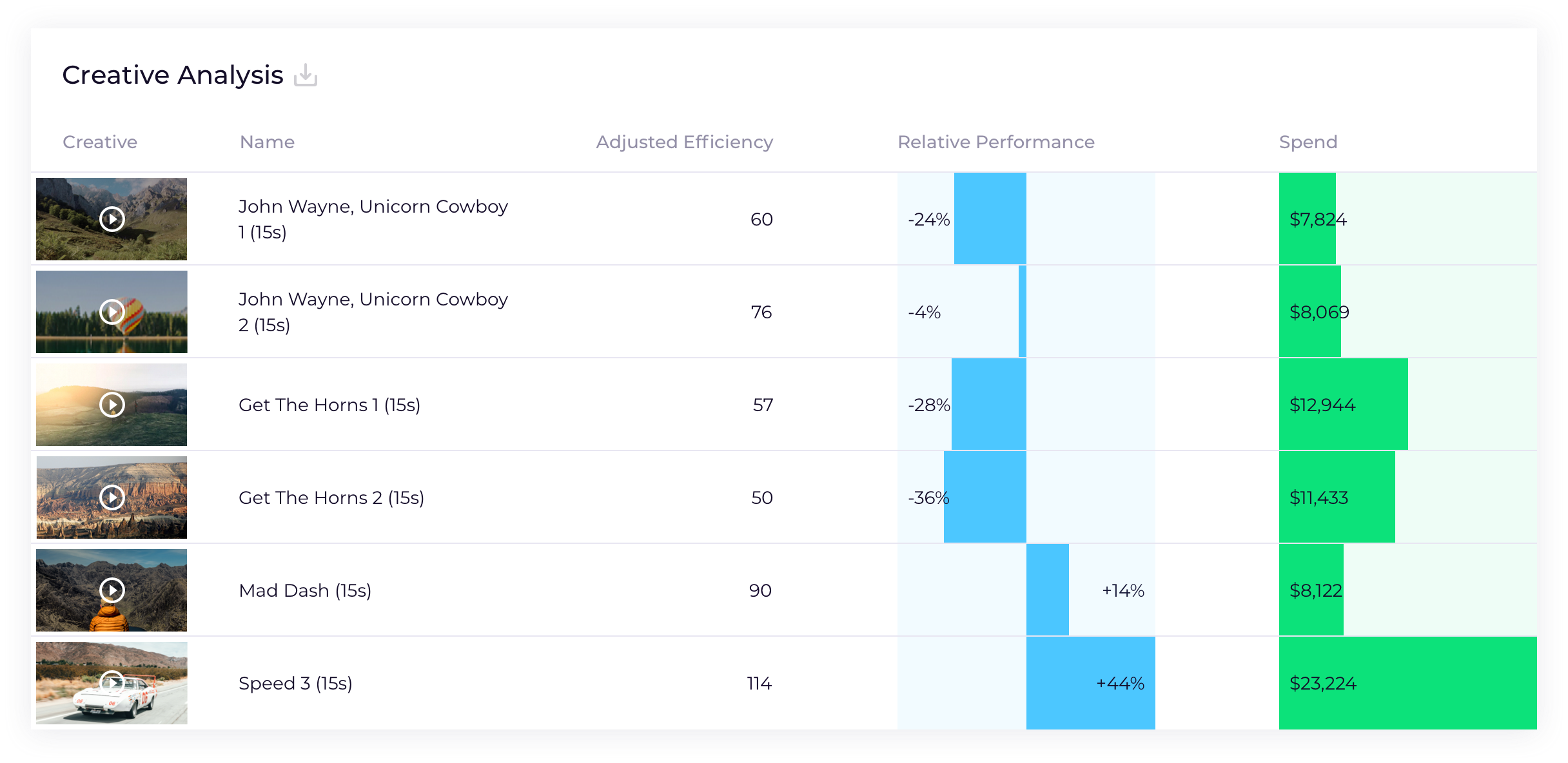 Partnering with creative experts
Since we know first hand the impact a good creative has on a TV campaign, we've partnered with dozens of top-tier creative agencies who have worked with hundreds of brands on everything from infomercials to big branded commercials. We introduce clients to our partners to work with for producing creative. Why do we take this approach vs doing it ourselves? We generally subscribe to the philosophy to excel and focus on what you do best. For Tatari, that's buying, measuring, and optimizing.
"Being on the front lines of media measurement, Tatari has formidable insights into the nuts and bolts of a performing ad. So when we hear feedback and recommendations from the Tatari team, we know it's coming from a place of performance optimization, which is valuable and complements the creative process nicely." - Meryl, Quirk Creative
With you every step of the way
In addition to our data-focused measurement, we provide all clients with Ad Creative Guidelines and data-based best practices on producing creatives. Having worked with many clients from a variety of industries, we've learned how to boost response efficiency. Often what yields the strongest response is contrary to conventional wisdom and traditional media buying firms' typical recommendations. We even have all Tatari clients meet with our Co-Founder & VP of Strategy, Joel Lander, who will advise you on everything from value props to commercial lengths, actor/actress personas and more. All of our recommendations come from a place of performance optimization to ensure you put your best foot forward and hit the ground running with your pilot test.
Crowning the Champion - over and over again
In order to optimize your creative strategy we:


Implement a careful testing approach designed to get accurate results fast, and
Use a careful analytic approach to make sure we come to the right conclusions.
To ensure you have transparency into the performance of your creative, we've incorporated creative analysis in our clients' dashboards. We accurately measure a creative's performance using data science and careful analysis of specific biases. We also leverage a performance feedback loop that we have across 50+ advertisers in order to take a strong data-driven approach on what makes a performing creative. This allows us to determine the champion creative quickly and with limited spend, often distinguishing between two creatives in one week with just $25k. Moreover, this allows us to constantly try to dethrone a champion creative. We know creatives aren't a one and done deal, so we are always finding ways to optimize them. For example, we had a client use what they thought was their best creative on TV for years, only to find out when they joined Tatari that their new creative performed exponentially better than their original one.
"It was great to get an overview of what you guys thought would work well, and we made sure that our creative plan adhered to it. The value for us was in working with a company that has seen hundreds of ads and their performance, and could pull out the key patterns and trends to help us stay on track." - Michael, CEO, Skylight Frames
Creative optimization is an extremely important lever for your campaign's success which is why we go to great lengths to ensure we've built optimization analysis into our product and developed deep partnerships around production. If your strategy isn't utilizing a data-driven approach, reach out to us- we'd love to help.