August 23, 2018
Austin Santino: Media Ops Intern
Austin joined Tatari in May for a summer internship.  From first business trip to pushing yourself out of your comfort zone, we thought it would be fun to get his take on new experiences. 
As my junior year came to a close, I was faced with a tough decision about whether I wanted to stay at the startup I'd been interning at for almost 2 years, or try something new. I was craving a change and wanted to feel uncomfortable again, as odd as that may sound.
Skyler (an early employee at Tatari) has mentored me since I was about 10 years old. He was a standout high school quarterback in our small town and I looked up to him growing up. Throughout high school and now college, he has continued to mentor me on how to best position myself for success. Skyler and I had a routine catch-up in early May, and during our call he highly encouraged me to apply for the open summer internship at Tatari. He told me that the best thing I could do for my last internship would be to learn skills fast (or as Skyler would say "drinkwater from the firehose").  As usual, I decided to act on his advice. During the interview process at Tatari, all I needed was a few minutes with ANYONE on the Tatari team to realize that these people are insanely smart, and top shelf talent. They're the kind of people that you can learn something from just by listening to them think through problems out loud.
I remember within the first hour of my first day, Joel (co-founder, PHD in Statistics, and economist by trade) gave me a very advanced Excel assignment. I was puzzled to find that no matter how I looked at the data, it didn't make sense to me. I worked closely with Joel to wrestle with the project, and we eventually made some strides. This initial experience confirmed to me that if my goal was to truly make myself uncomfortable and grow as a professional, I had made the right decision. These sorts of experiences continued on throughout my summer internship, and I can't thank the team enough for throwing me into the fire and challenging me to push myself beyond my comfort zone.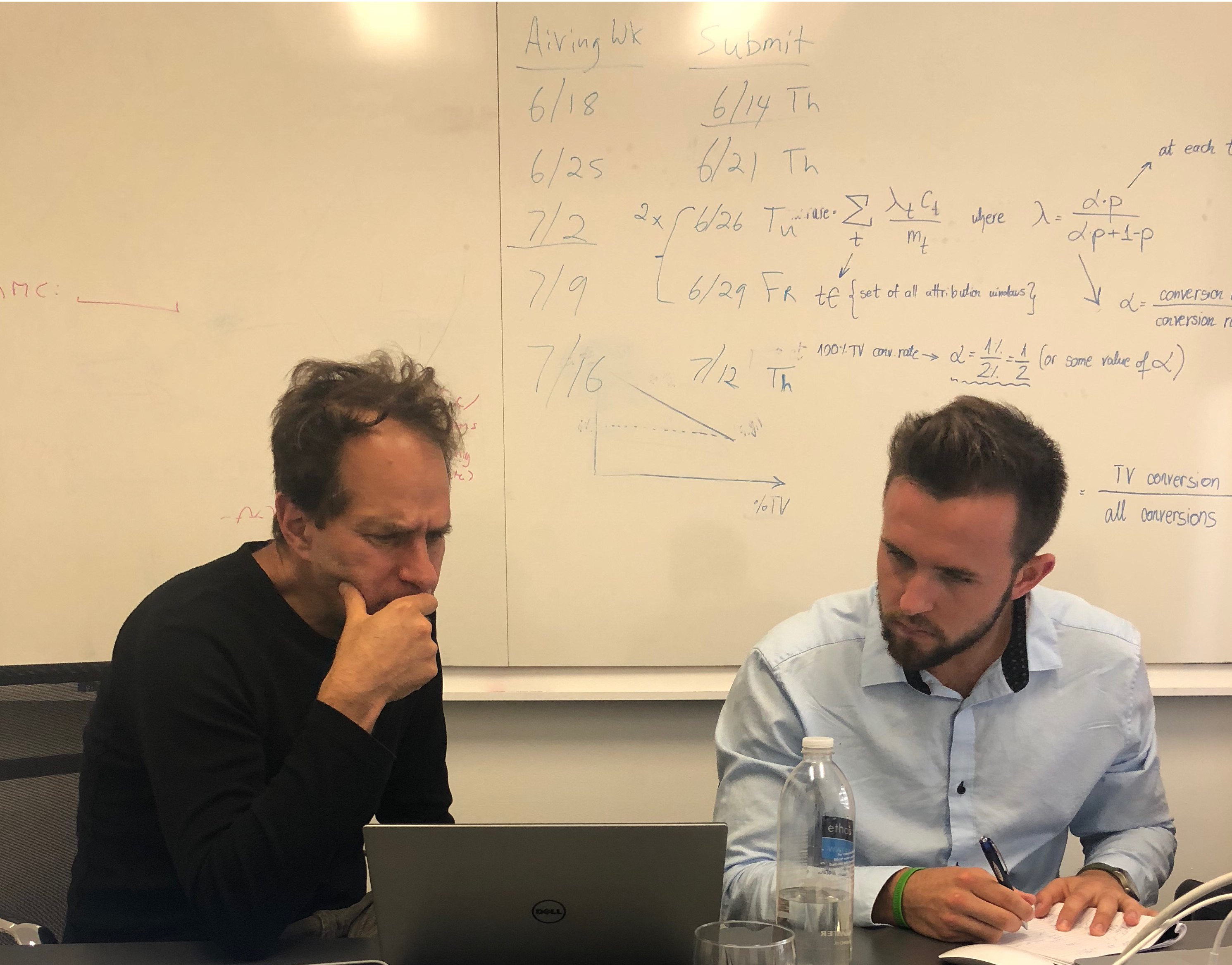 Joel (with wacky hair) and I (with the polished hair)
A few weeks into my time at Tatari, the company even took me on my first "business trip."  I would of never thought that I'd be traveling as an intern, but there I was boarding my first flight, staying in an Airbnb, and having a blast with my new colleagues. This was a trip that I will always appreciate and remember.
As my summer comes to a close and my internship winds down, I look back knowing that I made the right decision when choosing a summer job. The experiences that I took away from my time at Tatari this past summer made my daily two and a half hour commute worth every second of traffic. I couldn't be more thankful to the team for allowing me to learn from them on a daily basis, and I know that I am leaving so much smarter and better prepared for whatever the future may hold. To any college students who find themselves in a similar position that I was in three months ago, I advise you to go somewhere that will push you beyond your comfort zone, as you grow so much.